On September 17 and 18, 1944, paratroopers and gliders of the British 1st Airborne Division landed in the fields around this point. From here began their attempt to capture the Rhine bridges as part of Operation Market Garden. 
This is the (translated) text on the memorial pilar that has been standing since 2018 on the edge of drop zone X on the Renkumse Heide in Renkum.
Since 2013, the organization Renkum Leeft has been organizing a commemorative event: Renkum Airborne. The organization believes it is important to honor the heroes who ensure peace and security, both in the past and today. In addition to a memorial ceremony, airborne landings by Parachute Groupe Europe, military displays showing soldier life during WWII and a militaria market, there are also more topical activities to visit.
The historic drop zone-x is the scene of commemorations, droppings and living history for two days.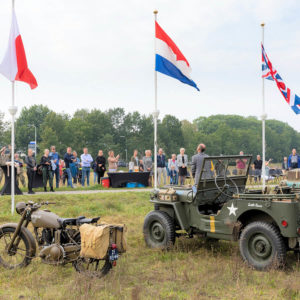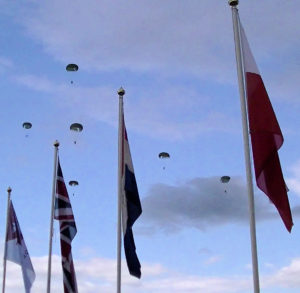 Town: Renkum
Location: Bennekomseweg
Date: September 15, 2023
Start: 11.00 hrs