If yo ave any queries, please click on the subjet
Disabled
What about the arrangements for elderly people and those with walking difficulties?
At Ede/Ginkel Heath please contact Ede municipality or via www.ede.nl.
For Oosterbeek please contact per email or by phone: +31 26-334 1340 or +31 06 12 10 95 85
Public Transport
Which activities are preferably reached by public transport?
This concerns Arnhem, Ede and Oosterbeek. From Arnhem station it is a 15  – 20 minutes' walk to the Airborne Square. For Ede please visit: www.ede.nl.
From Oosterbeek station it is a 5-10 minutes' walk to the Airborne cemetery.
Overview Airborne activities
Could you please provide me with an general overview of all the commemoration activities? Middle of next year you will find all the ceremonies and other Airborne activities on our website.
Parking
Where can I park for the commemorations?
The Arnhem and Driel commemorations do not have a parking policy, please use all available parking space in town. The arrangements for parking at Ede (Ginkel Heath) you will find on the municipality site: www.ede.nl.
For the ceremony at the Oosterbeek cemetery a large parking place is available at the North side of Oosterbeek station.
Airborne Flag
When can the Airborne flag be hoisted? The Airborne flag is not an official flag as nation flags are and therefor does not have an official protocol. It is custom in the region of Arnhem, Oosterbeek, Driel, Ede to hoist the Airborne flag on the first of September until the day after the official Airborne commemorations.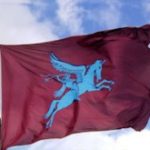 Because September is well known as being the Airborne month in the Arnhem region, many people leave the flag up until the end of the month. Even without an official protocol it is recommended to treat the flag with the necessary respect, as it depichts the respect that the flag owners show towards those who fought for our freedom. The Airborne flag is available at the Airborne Museum Oosterbeek, Airborne@The Bridge at Arnhem, Smederij at Ede and many shops in the Airborne Region.