The Airborne commemorations on Ginkel Heath near Ede are surrounded by para drops with hundreds of parachutists, together with a large Airborne Experience.
The Airborne program starts at 09.30 hrs and ends at 16.30 hrs. At Ginkel Heath  hundreds of parachutists will land. After the first Mass Drop at approx. 10.00 hrs the official commemoration starts at 11.00 hrs. After this the parachute drops will continue at 12.30 hrs until 16.30 hrs.
English parachutists of the 2nd Battalion The Parachute Regiment, soldiers of the 11th Air Manouvre Brigade from The Netherlands, para's from America and several NATO countries and many parachutists of the Parachute Group Holland will jump from Hercules and Dakota's.
UPDATE 21/4/2020:
Due to government regulations regarding the Corona situation, the municipality of Ede has announced to develop an alternative commemorations program for 2020, without full scale para drops on the Ginkel Heath. Further information to follow.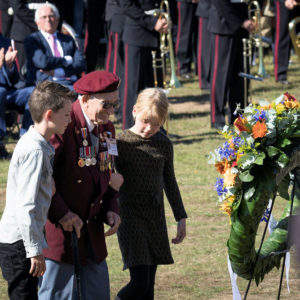 Town: Ede, Ginkel Heath

Location: Verlengde Arnhemseweg, Ede
Date: 19 september 2020
Tel.: 14 0318 (in Holland only)
WhatsApp: +31 (0)6 28 45 58 99
(1 aug – 30 sept)