On the CWGC Arnhem Oosterbeek War Cemetery at Oosterbeek more than 1.750 Allied soldiers are buried. They fell in battle during the Battle of Arnhem.
On the first Sunday after September 17, a memorail service is held and they are commemorated with solemn homage in the presence of veterans, their relatives and thousands of interested parties.
Traditionally 'flower children'- schoolchildren from Renkum municipality – lay flowers at the gravestones.
A white stone sarch is placed at each grave. On the field of honor is a 'Cross of Sacrifice' made of Portland stone, on which a bronze sword is attached. In the foreground of the cemetery is 'The stone of memory'. The establishment of British honorary fields is uniform in all 140 countries where the Commonwealth War Graves Commission is responsible for the maintenance of the war graves.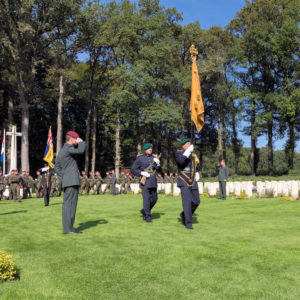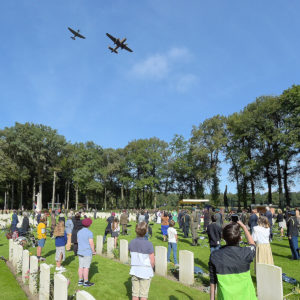 Town: Oosterbeek
Location: CWGC Arnhem Oosterbeek War Cemetery
Date: September 17, 2023
 Time: 11.00 hrs
Tel.: +31 (0)26 33 41 340