Bij dit monument wordt een korte herdenkingsdienst gehouden voor de Air Despatchers en piloten, die zijn omgekomen tijdens hun inzet bij het droppen van voorraden en materiaal in september 1944.
Het 'Air Despatch Memorial' in Oosterbeek (gemeente Renkum) is een gemetselde gedenksteen, met daarin opgenomen een  drietal panelen. Het middenpaneel bestaat uit een in natuursteen uitgehakte parachute met bevoorradingsmanden en de insignes van de Royal Army Service Corps en de Airborne Forces. In de parachute is een bronzen Dakota aangebracht. Aan de onderkant van het middenpaneel is een bronzen plaquette bevestigd. Op de zijpanelen zijn bronzen plaquettes aangebracht.
De tekst op de plaquette van het middenpaneel luidt:
'DEDICATED TO THE MEMORY OF THE AIR DESPATCHES OF THE TOYSL ARMY SERVICE CORPS WHO, TOGETHER WITH AIRCREW OF THE ROYAL AIR FORCE AND THE ROYAL CANADIAN AIR FORCE, GAVE THEIR LIVES IN VALIANT ATTEMPTS TO RESUPPLY THE AIRBORNE FORCES DURING THE BATTLE OF ARNHEM (OPERATION MARKET GARDEN)
18TH – 25TH SEPTEMBER, 1944.
ERECTED BY THEIR COMRADES AND AIR DESPATCHERS PAST AND PRESENT, WITH THE GENEROUS ASSISTANCE OF THE BURGOMASTER AND ALDERMEN OF RENKUM, AND OTHER KIND DUTCH FRIENDS.
18TH SEPTEMBER, 1994.' 
Op de zijpanelen zijn de namen van 79 leden van het Air Despatch Squadron aangebracht, die tijdens de Slag om Arnhem zijn gesneuveld.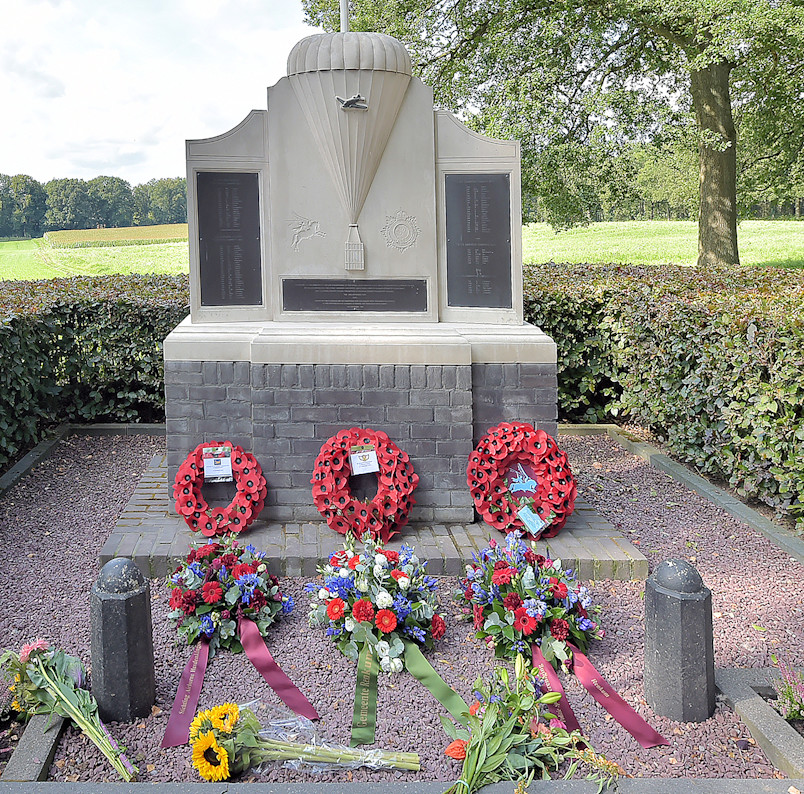 Plaats: Oosterbeek
Locatie: Van Limburg Stirumweg
Datum: 18 september 2022
 Tijd: 16.00 uur
Tel.: 06-40503984